PROJECTS WITH A PURPOSE How GMA Construction Group Impacts its Community, One Project at a Time
Published on
Oct 16, 2017
PROJECTS WITH A PURPOSE
How GMA Construction Group Impacts its Community, One Project at a Time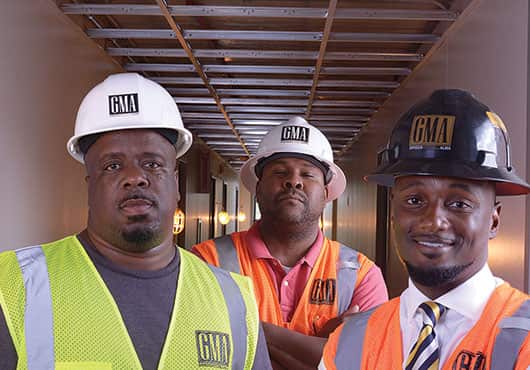 GMA Construction Group hires people like Carl Nesbitt, Assistant Superintendent (pictured on the left) from within the housing communities it renovates. Also shown are Deon King, Superintendent (middle) and Cornelius Griggs, President.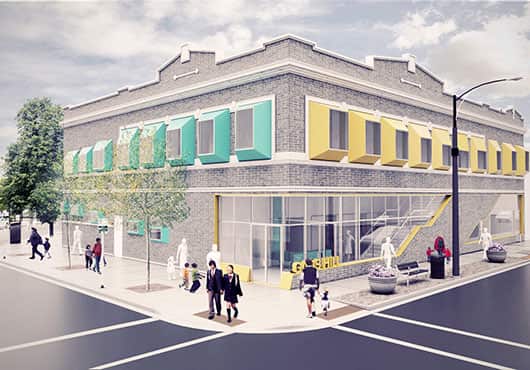 Rendering of one of GMA Construction Group's projects, Gads Hill Center in Brighton Park, shows the conversion of an existing commercial space into a full-service early childhood learning facility.
Chicago is the third-largest city in the United States, with nearly three million people living in 77 communities that contain more than 100 neighborhoods. With so many people and the vast variety of communities that exist within the metropolitan area, it would seem an impossible dream for someone to improve the landscape and the lives of the residents across the city's diverse cultural and economic spectrum—not only in the most desirable areas of the city, but also in those places where things seem the darkest.
But for Chicago native Cornelius Griggs, President and co-founder of Griggs Mitchell & Alma of IL (doing business as GMA Construction Group) in Chicago, the dream is becoming a reality with each project his company completes. GMA Construction Group, founded in 2015, is a veteran-owned, fully integrated general contracting, construction management and design-build firm. Its projects span a variety of types and sites, including the Chicago Public Library, the historic Hotel Florence in Chicago, ACCESS Des Plaines Valley Health Center, Forest Preserves of Cook County campgrounds, J.T. Manning Elementary School and several multi-unit residences.
For Cornelius, construction is a method for improving the Chicagoland area through the skills and experience he has developed over the years. And because of his background, those people seemingly living under a cloud of economic depression are in the areas where he sees an opportunity to make the biggest impact.
Preparation for the Future
Growing up on the West Side of Chicago, Cornelius could not have predicted that his life experiences would be foundational elements on his road to a career in construction and would fuel his passion to help others. "I grew up in some of the toughest parts of the city. I was a ward of the state from the time I was nine until I was 23 years old," says Cornelius. He further explains, "Bouncing around through the system, living in multiple housing projects, having that experience with that part of my life and being able, now, to be in a position where I could have never dreamed of being is all very humbling and inspiring."
One of the housing projects Griggs lived in was Cabrini-Green, a low-income public housing complex characterized by buildings in disrepair, unmaintained landscaping, high crime rates and gang activity.
How did he excel beyond circumstances that would have made others crumble or choose a path of destruction? Cornelius explains, "I often think about that. When I do, I tend to fall back on the fact that there was a higher power guiding me. I had an internal instinct that was placed in me by a higher power to say, 'Hey this probably isn't the right thing to do. Let them go that way, you go this way.' "
It was that internal instinct, along with his perseverance, work ethic and educational accomplishments that enabled him to transition out of what some may have described as a hopeless situation. He would go on to use those skills in the U.S. Army Reserve—serving 10 years with tours in Afghanistan and Uzbekistan—and in every other area of his life.
Seizing Opportunity and Industry Experience
Although a career in construction was not on his radar when he first started college, during his junior year he landed an internship with Clark Construction that changed the trajectory of his life. After graduating, Cornelius immersed himself in the industry, working full time at Clark Construction in the corporate risk management department and then out in the field, where he discovered his calling. "I found that I had a passion for the field of construction and construction management," Cornelius explains. Although he considered law school, when Clark Construction offered to pay for his master's degree, he took full advantage of the opportunity. He earned a degree in industrial technology and operations with a concentration in construction management while continuing to work for Clark Construction.
It was with this company that he first gained experience working on a range of projects, including the McCormick Place West Building expansion. "On that project, I oversaw a ton of trade contractors. Roughly $40 million to $50 million worth of trade contractors were under my watch," says Cornelius.
If Cornelius wanted to leave the Windy City, he could have moved to the West Coast when Clark Construction gave him the option after the recession caused a reduction of projects in Chicago. Instead, he landed a job at Walsh Construction and stayed in Chicago. For the next decade, this is where he continued to hone his skills and build his personal portfolio, which included projects that ranged from a $152 million downtown high-rise, Metra stations and Chicago Housing Authority projects, to several Chicago Public School (CPS) buildings. Many of the CPS projects took him back to the same streets he grew up on, reminding him of how far he had come—going from a student walking the halls to being responsible for overseeing the restoration of the very same structures.
"We deliver a high-quality product to residents who would not get that type of quality living in those communities."Cornelius Griggs, President and Co-Founder, GMA Construction Group
Associating Education with Industrial Change
Working on site at those projects, where he saw faces like his—people with the same ethnic background and economic beginnings—was quite different than working at the management level where he witnessed a lack of minority representation. "When I was first introduced to the field of construction management back in 2002, I noticed that there was a kind of a drought of minority managers. I participated in various organizations and meetings; there was hardly ever, at any point, anyone who looked like me, resembled me, in these meetings," he says.
Instead of just observing the need for diversity, Cornelius became a change agent and established a platform through which minorities could learn about construction management. In 2008, he worked with Robert Kelly, Dean of Dawson Technical Institute, to establish an associate science degree in construction management at the City Colleges of Chicago. "This program is geared towards minorities and disadvantaged students from throughout the city of Chicago, who are interested in the field of construction management," says Cornelius. During the first two years of the program, Cornelius taught all 10 of the classes. Now there are five instructors teaching the 30-hour construction management coursework.
Passion for Improving Property and Equipping People
Cornelius' commitment to diversifying the industry didn't end there. After 13 years of working for other construction companies, he recognized that owning his own business would put him in the best position to help students transition into the industry by creating jobs. About 85 percent of his workforce is made up of former students. "I've been able to extract students from that program and give them an opportunity that they would not have been able to get in our industry with their lack of experience," he says. GMA Construction Group employs 17 individuals on the management level and between 30-45 people in the field, with each person playing an integral role in the organization's success.
Owning his own firm also allowed him to pursue bids in the disadvantaged neighborhoods he once called home. "When I started my own firm, I geared my business around projects within those low-income areas," Cornelius shares. He further emphasizes, "We deliver a high-quality product to residents who would not get that type of quality living in those communities."
The East Park Apartments project in Chicago, a $14-million renovation effort, is a prime example of how GMA Construction Group is not only bringing new life to a neighborhood complex, but also to its inhabitants. Restoration of the 153-unit building includes gutting existing units and updating them with new drywall, paint, floors, cabinets, appliances, countertops and lighting, as well as new corridor lighting fixtures and flooring and other improvements.
The work on the building, however, is not what Cornelius is most proud of. Instead, it's the team of people he works with—including John Adams, Project Executive; Nnamdi Ogbuagu, Assistant Project Manager; and Deon King, Superintendent. He's also proud of the three community-hire positions he created to provide East Park residents with the opportunity to get hands-on experience in the construction industry. These jobs—assistant superintendent, general laborer, and site security—establish another avenue for minorities to enter the trade without the need for previous industry experience.
"I feel like my duty or goal in life is to use construction to put people in places that they wouldn't normally be able to be in. If I can impact the lives of those who live in the communities through the projects that we do, then that's really what I think I've been put here to do," says Cornelius. "That's what drives me, every day."
Cornelius has come full circle—and his company is prospering. In just two years' time his business revenue has increased by nearly 300 percent each year. GMA Construction Group was recently selected to work in the neighborhood he once called home, on the Cabrini-Green Site 1 Redevelopment Project, a 6.9-acre site that will include more than 482 units of mixed-income housing. Cornelius also continues to pursue new endeavors, such as the new Obama Presidential Center planned for Jackson Park. One look at his life's journey, and it's clear he is passionately pursuing his purpose.